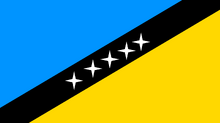 Welcome to Phaluhm Phoueck official website
Edit
What is Phaluhm Phoueck?
Edit
The Federated States of Phaluhm Phoueck(Phaluhm: Faharatto Stittan sa Phaluhm Phoueck) is a country in South East Asia. It consists of four islands, which are also states,Nazahezan, Kota Kambular, Nuybuey, Retattoand Magazena. These islands make up thePhaluhm Archipelago. Paluhm Phoueck is a consitutional and a parlimentary republic.
Phaluhm Phoueck has about 982,231 inhabitats, mostly with European, American, Filipino or Malayan decendents. They mostly live in the urban cities such as Dauham Sammar Hazaham, Tohezeck, Westal City or Nallek
Best Places in Phaluhm Phoueck
Edit
Citizens
Edit
Departments
Edit
Transportation - Welfare - Health - Environment - Defence - Education - Tourisim and Culture - Energy - Finance - Foreign Relations - Justice - Industry, Agriculture, Industry and Trade 
Renew Tax Credits between 1st September to 30th September.
Students are allowed to study overseas between any ASEAN, US, IWO or EU country, please see the Department of Education for more details.
All foreign travel to Kambular and Magazena is banned until 11th October.
Passport and Citizenship entries are now available for reviewal.
Verify if your passport is legal. Edit
Applicable to Balulu and Phaluhm citizens only.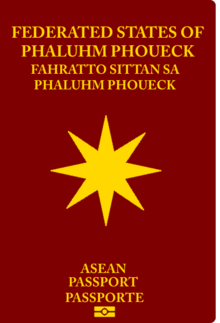 Physical Appearence 
Edit
The passports are dark red coloured and features the Star of Phaluhm or the Star and Cresent for Balulu citizens.
The words "ASEAN" and "PASSPORT" and "PASSPORTE" are embedded for the Phaluhm passport. Balulu residents have the words "ASEAN" and "PASSPORT" and "PASSPORTE" and "جواز سفر"embedded.
Also "FEDERATED STATES OF PHALUHM PHOUECK" and "FAHRATTO SITTAN SA PHALUHM PHOUECK" is embedded at the top.
Balulu residents will have "FEDERATED STATES OF PHALUHM PHOUECK (BALULU)" and"FAHRATTO SITTAN SA PHALUHM PHOUECK (BALULU)" and "(فحرتو ستاً سفلهم فوك (بللو" embbeded at the top.
Also check if your passport for poor printing or smudges, that will usualy indicate a illegal passport.